With the new year many new things come along with it, new car models, New Years' resolutions and, in fashion, new fashion trends!
While I don't consider myself to be an avid "trend follower" per-say, I do think trends are influential to the way we dress because trending items become more readily available on retail shelves when their time comes. Whether you hate the idea of trends or love them, it is fun to see what fashion houses will be producing in the upcoming year and what we can prepare to implement into our wardrobe or avoid completely!
"Stole Your Dad's Jeans" Level Baggy Jeans
Baggy jeans have become all the rage as of late and this trend will not be going anywhere in the 2023 year, in fact the jeans will get even more large and in charge.
Bottega Veneta created a pair of jeans that are so wide they may be confused with a denim skirt featuring a slit in the front and Levi's (king of jeans) has XL flood jeans available, the adjective is all you need to know the level of looseness these jeans are sporting.
Who needs sweat pants when oversized comfort fit jeans are in??!
All in the sheer details
As you may have seen during recent months, sheer tops and blouses have been circulating. We can expect to continue to see this trend into 2023.
While some people are comfortable rocking a sheer top or dress with nothing but mid coverage underwear, even those with more modest dressing styles can implement this fun trend!
My favorite way to wear a sheer long sleeve is to pair of with a nude or black bodysuit underneath depending on the colors of the top. For sheer dresses or skirts, a body-con dress could be worn underneath for subtle coverage.
Suit Up
This year we saw vests being all the rage! In 2023 the suit concept will continue to triumph. This is a trend that is timeless in nature, a well tailored suit can be worn in any year but in 2023 it will be evidently seen amongst fashion houses and fashion lovers alike.
En Pointe: Ballerina Wear with a Twist
Whether you realize it or not, ballerina inspired style has been a presence in one way or another for years. The tulle skirt has been worn since the early 1800's and it was a big trend in 2016. Ballerina flats were seen everywhere in the mid 2000's to the early 2010's, paired with either straight line skirts or skinny denim jeans and a tee shirt for a more relaxed look. The recent bodysuit trend could also be seen as being lent from the ballerina aesthetic, drawing inspiration from the unitards worn.
In 2023, we will see more clothing stealing pages out of ballerina's fashion books, but with a twist. The return to ballerinaesque dressing is being called "ballet core", which is a style that takes traditional ballerina uniform pieces such as leg warmers, tulle, or wrap workout tops and pieces them together in an unconventional way to suit your personal style or desired tone for the day.
Show Strength
A lot of the clothing for 2023 women's fashion will have details drawing inspiration from protective body armor worn in wartimes. Corsets have been rising in popularity recently and they will continue to do so in the new year. In addition to corsets, we will see other structured pieces like breastplates incorporated into dresses and shirts.
Arm cuffs are also predicted to be a part of this trend when it comes to jewelry, which can be a subtle way to try out this style of dressing in the upcoming months.
These are just a few trends we can keep our eyes out for in the new year. Whether you are looking for a wardrobe refresh or just want to venture out of your comfort zone a bit, perhaps give one of these a try! You may hate the new look or it may become a closet staple. Either way, as the kids like to say, you don't know if you don't try!
Shop my favorites of the trends!
Good American Good Skate High Rise Baggy Jeans in I258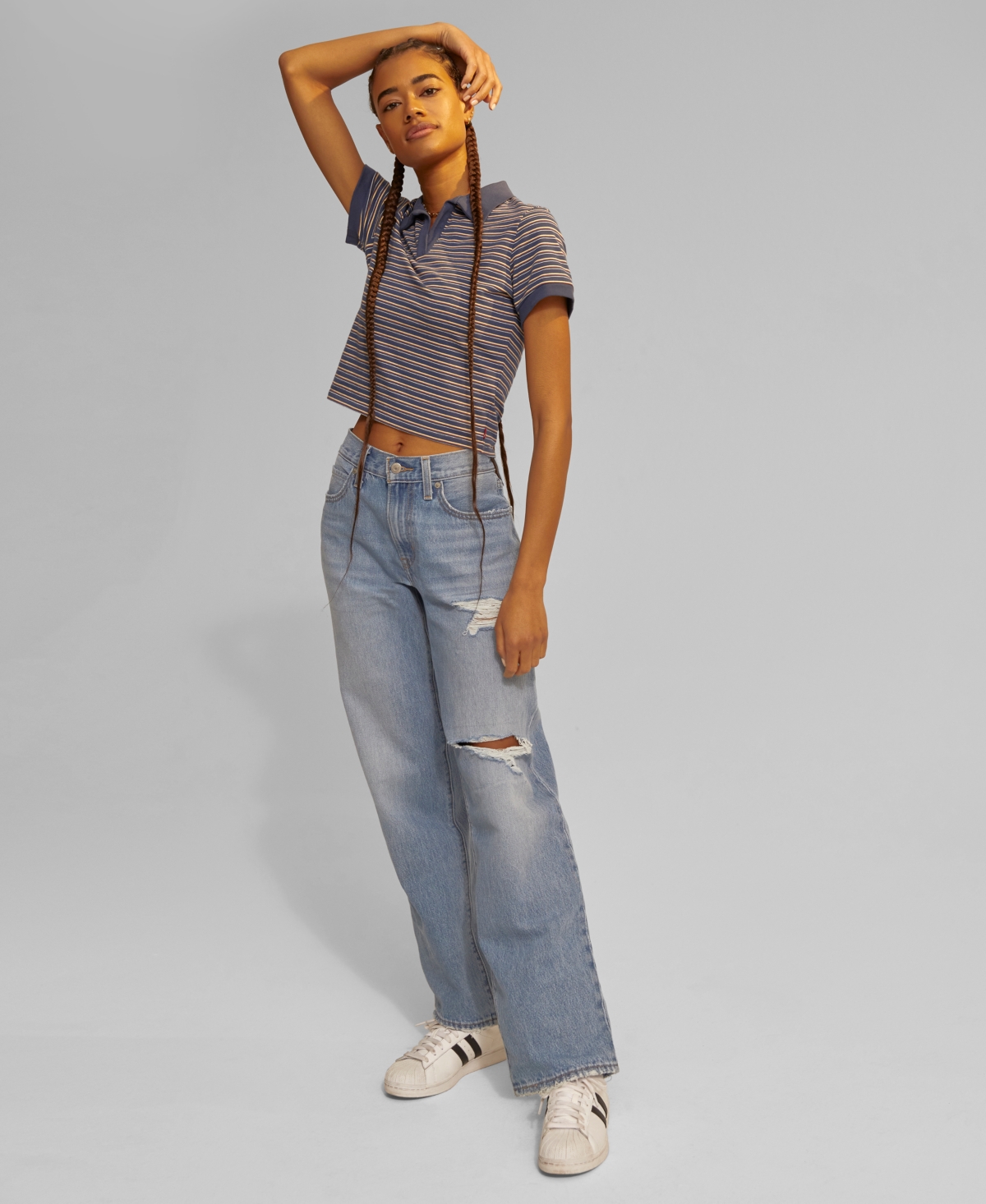 Continue reading

"Fashion Trends for 2023 & How to Make Them Wearable"